Who is Shear Seismic?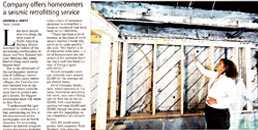 Shear Seismic is a BC company dedicated exclusively to the seismic strengthening of residential properties. It was founded in the wake of the Japan and Christchurch, New Zealand earthquakes in recognition that, without attention to common structural weaknesses, B.C. homes are at similar risk of catastrophic damage. Our approach is to retrofitting is two-fold: engineered and non-engineered - according to the house design and budget. Our goals is to singular: to protect as many families as we can from injury and homelessness when that day comes.
What is Seismic Retrofitting?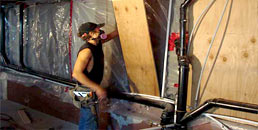 A seismic retrofit is a combination of structural upgrades in basements and crawlspaces that substantially increase a home's ability to survive the powerful shaking of a strong earthquake. Three common structural weaknesses have been identified as the cause of ,otherwise, well-built homes collapsing in even moderately strong earthquakes. Strengthening these deficiencies can be accomplished by skilled professionals often in just a couple or few days depending on the style of home and configuration of the basement or crawlspace.
Which Homes Need Retrofitting?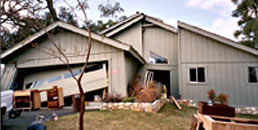 To a greater or lesser extent, regardless of how recently they were built, most homes can indeed be made substantially more earthquake resistant. Age is only one suggestion of a home"s need for strengthening; design is another. Modern open concept designs with large expanses of window are inherently less capable of resisting earthquake force than a traditional multi-room design with fewer, smaller windows. Contrary to popular belief, the smattering of foundation bolts found in post 1974 homes is not enough unless other essential components are also in place.
How We Know Retrofits Work?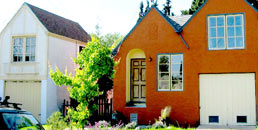 If you understand the reasons basement structures fail, then the preventative steps make common sense. To cite an example, two identical Victorian homes, one seismically retrofitted, the other not, were impacted by the 1989 San Francisco earthquake. The unretrofitted house broke into three sections and cost $260,000 to restore. The retrofitted twin sustained only $5,000 cosmetic damage so the family still had a home.
What Seismic Retrofitting Costs?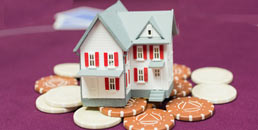 This, of course, depends on many factors: the size and design of the house, and how it connects to the foundation, for starters. As a guideline, a good, complete retrofit usually costs 1%-3% of the home's value. The benefits, however, are priceless: low risk of injury…no need to evacuate … to scavenge for food and supplies… to find emergency shelter...to wait years to rebuild... and dozens more. Strengthening a home to survive an earthquake intact is, hands down, the most practical insurance money spent. A few days work and you're set!
How Great is the Risk?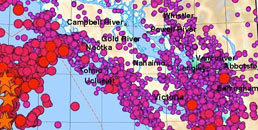 If Haida Gwaii's 7.7 had been closer to home, we wouldn't be having this conversation. $20 billion in residential damage was caused by each of two 6-point earthquakes in California where homes are similarly built. We've been warned to expect bigger. Look at the photos of damaged homes on this website and notice: the main and upper floors are barely damaged. It was the basement structure that failed. They collapsed off their foundations, became uninhabitable. That's just the tip of the risk we face.